Over the last few years Avon Gardens Trust has worked closely with the Woodland Trust and the Friends of Bishop's Knoll Wood at Bishop's Knoll in Sneyd Park. One result has been an interpretation board at the entrance to the site which features the AGT logo.
Wendy Tippett has researched the site and has written a number of articles for the Trust including 'Bishop's Knoll Hospital' in Journal No 8. Representing the AGT, Wendy joined a gathering of people on the 24 August 2016 with an interest in Bishop's Knoll for the unveiling of the replica 1919 commemorative plaque at the entrance to the Wood. It was unveiled by the High Sheriff of Bristol, Helen Wilde and commemorates the work of Robert and Margery Bush who converted their home at Bishop's Knoll to a hospital for injured Australian soldiers in World War I. The original plaque was taken to Canberra many years ago, and the Australian Department of Veteran Affairs funded the replica. Enthusiasts included members of the Britain- Australia Society, the Bush family, Clifton College, Clifton Rugby Club, Gloucestershire CCC, Bristol Tree Forum, Bristol Record Office and the Australian Armed forces.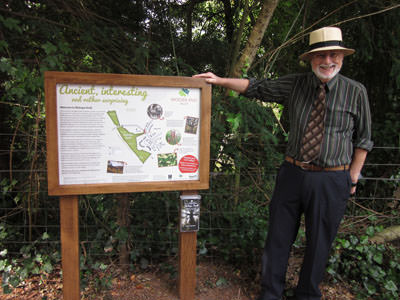 Bishop's Knoll Wood volunteer, Chris Stephens, also launched his recent book entitled Bristol's Australian Pioneer: The Story of Robert Bush and his Bishop's Knoll WWI Hospital, published by Bristol Books.
The AGT is now working closely with The Woodland Trust over the identification of the specimen trees in the arboretum at Bishop's Knoll which was created by Robert Bush. The AGT will be providing named labels for the trees there which will further enrich the experience of visitors to the site.