Publications from the Avon Gardens Trust
Avon Gardens Trust Newsletters
Members stay in touch through our Newsletters which keeps them up to date with information on forthcoming events, research findings and news topics affecting parks and gardens in the Avon area (these Newsletters were formerly called Bulletins).
An index to these publications may be seen here
Newsletters and Bulletins are available to download as a PDF.
Download Editions of the Newsletters/bulletins
Copies of our Annual Review, published between 2005 and 2012 may be downloaded here (PDF)
Editions of our Newsletters prior to 2005 may be downloaded here (PDF)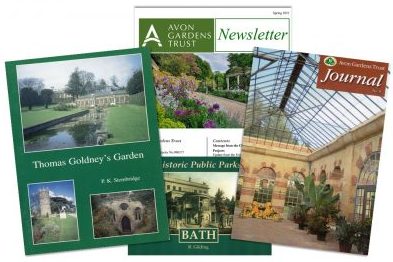 Avon Gardens Trust Journal
Our Journal adopts a more academic approach and focuses on longer, well researched articles that help us with the further understanding of aspects of our historic designed landscapes.
The current issue of The Journal has now been sent out to our members.
Additional copies are available at £3.50 to include p & p. Please email [email protected] if you would like a copy.
An index to The Journal may be seen here
Current edition: Journal No 11.
'Charmingly Disposed and Improved' - Thomas Robins and the Political Gardens of Bath
An American at the Court of St Catherine - a 1928 visit by landscape student to St Catherine's Court, Bath.
A proposed solar farm beside Acton Court
Winter lecture series 2022-2023
Books from Avon Gardens Trust
We have published several interesting and informative books written by experts in their field.
These volumes are illustrated with historic views and maps and contain fascinating accounts of the parks and gardens, the people responsible for creating them and the people who worked in them.
'These excellent little books' are 'equally interesting for the armchair reader and the park visitor.'
Garden History Society
View More about our books